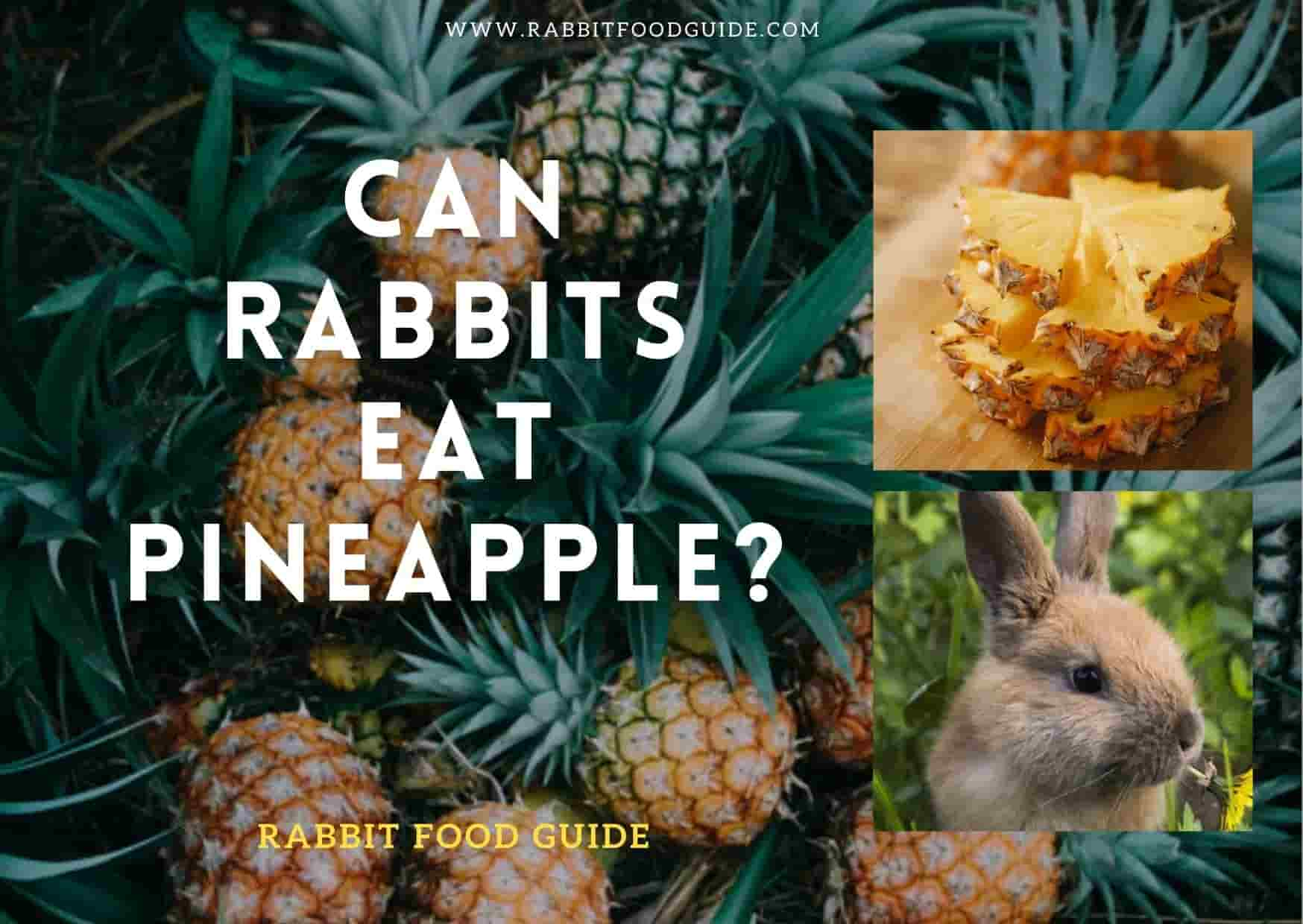 Can Rabbits Eat Pineapple?
Can Rabbits Eat Pineapple? YES, But we must provide them a small amount of Pineapple. Rabbits love to eat pineapples without a doubt. Pineapple is good nutritious food that can provide vitamin C, vitamin A, vitamin K, potassium, iron, calcium, and folate, etc. Pineapple is a popular food treat among humans and rabbits. But due to the high sugar level, we can't serve them too often. If we overfeed rabbits with sugary food it can lead to painful gases and bloating health issues. If we feed the right amount and feed in moderation, it will be a good source of fruit for rabbits.
Don't try to overfeed them with Pineapple. It can lead to critical health problems in rabbits. Good healthy rabbits need a well-balanced diet with nutrients and vitamins. In general, for rabbits, the main food source is high-quality hay. Hay mainly contains fiber that helps their digestive system. We can add Pineapple as a good occasional treat in rabbit's diets. There is a lot to talk about Pineapple before feeding to rabbits. This article will cover all the things you should know about Pineapple from A to Z. 
Let us Get Started !!!!
Extra Information About Pineapples
Pineapples are categorized as Bromeliaxeae family plants. Pineapples are one of the top popular fruits around the world. There are many kinds of varieties of Pineapples. Smooth Cayenne, Red Spanish, Abacaxi, and Queen are the most popular ones. Some people say Pineapples are packed with many berries.
Pineapples are tropical fruits that are rich in vitamins, enzymes, and antioxidants. They may help boost the immune system, build strong bones, and aid indigestion. And, despite their sweetness, pineapples are low in calories.

LiveScience
Pineapples are one of the fruits that are rich in vitamins, antioxidants, and enzymes. According to many kinds of research, 1 cup of Pineapples can provide many health benefits. Pineapples contain a significant amount of bromelain which helps to break down protein and aid digestion. Pineapple is also a good source of manganese, vitamin B6, copper, thiamin, folate, potassium, magnesium, niacin, riboflavin, and iron, etc. Pineapples provide many health benefits for reducing chest pain, arthritis, blood clots, diarrhea, eye floaters, lower cancer risk, bronchitis, and many more.
According to the U.S. DEPARTMENT OF AGRICULTURE(USDA), 100g of Pineapple portion contains
| | |
| --- | --- |
| Water | 86.00 g |
| Energy | 209 kJ |
| Carbohydrates | 13.12 g |
| Sugars | 9.85 g |
| Dietary fiber | 1.4 g |
| Fat | 0.12 g |
Vitamins and Minerals
| | |
| --- | --- |
| Pantothenic acid (B5) | 0.213 mg |
| Vitamin B6 | 0.112 mg |
| Vitamin C | 47.8 mg |
| Calcium | 13 mg |
| Iron | 0.29 mg |
| Magnesium | 12 mg |
| Potassium | 109 mg |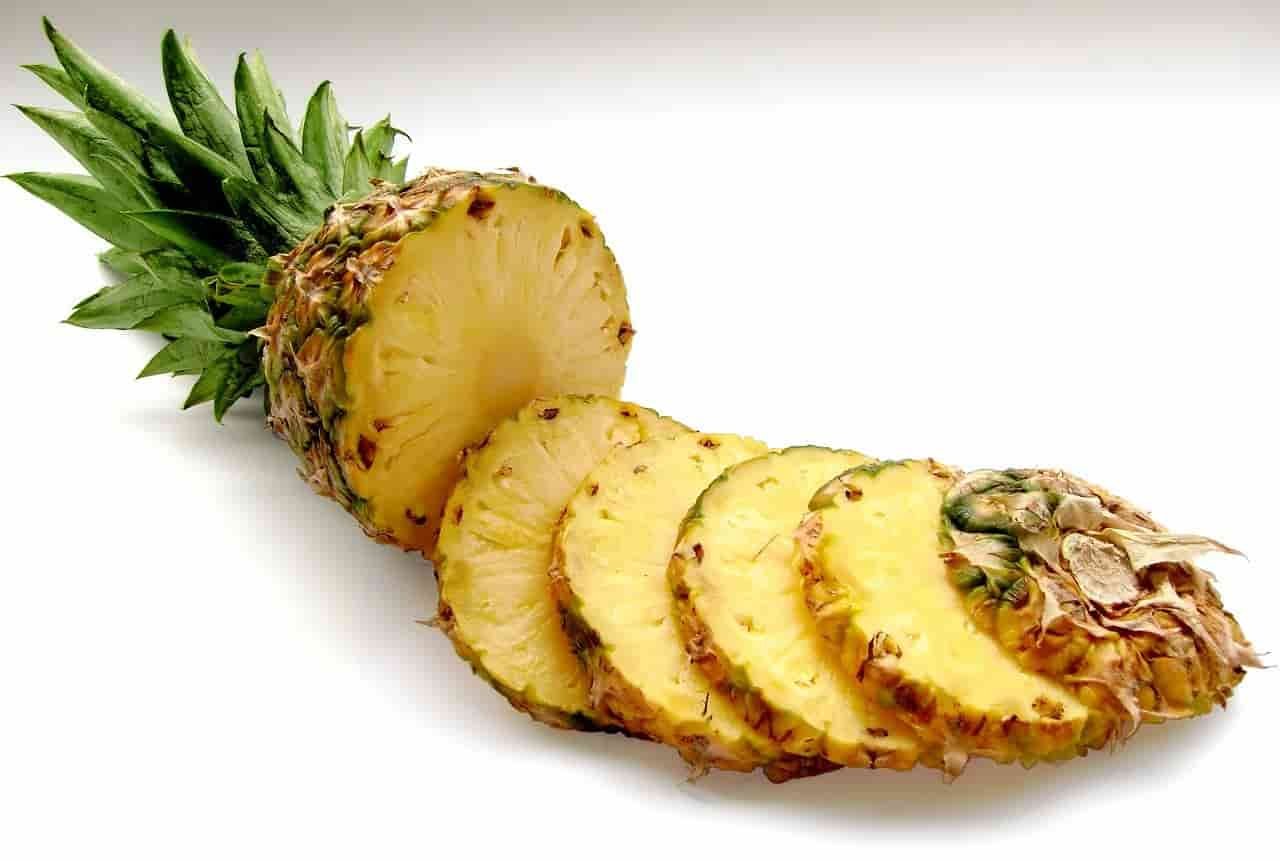 Do Rabbits Like To Eat Pineapple
Absolutely, Rabbits like to eat sweet and juicy fruits. They like the sugar flavor of the Pineapple. Due to the high sugar level, we must feed only a limited amount for rabbits. If you feed Pineapple for the first time for rabbits, give them small portions & check whether they like those.
Most of the time they will love to eat Pineapples. Don't ever try to overfeed them. It can cause health problems in rabbits. If we give them sweet foods like Pineapple, they will be addicted to those. Sometimes they will try to reduce eating healthy food in their diet. So, keep in mind to give only small portions to rabbits. Moderation is the key to rabbit's health.  
Is Pineapple Safer Rabbits?
Yes, pineapples are safer to be eaten by rabbits. If we feed them more often, high sugar content may cause health issues. Most of the time overfeeding high-sugary food like pineapple, mangoes, blueberries, and bananas, etc can lead to gastrointestinal tract health problems and dental problems. We must be careful when we feed fruits to rabbits. It's definitely safe for rabbits' health as long as we feed them small Pineapple portions in moderation.
Avoid feeding Pineapple leaves and skin for rabbits. It can lead to some health problems in rabbits. We can serve the inside fresh part for rabbits. Don't try to feed pineapples to baby rabbits. You can start feeding pineapples to rabbits who are more than 4 months old. Feed them pineapples as an occasional treat. It is really good for rabbits' health. Remember that we can only add fruit treats not more than 5% for rabbit's diet. 
Rabbits' main food source should be hay. We should prioritize hay in the regular diet plan. Overall nutrition can be covered by hay. Unlike humans, fiber is essential for rabbits. It can prevent bad bacteria from forming in the intestines. Some of the bacteria can lead to critical health issues in rabbits. This is why we should give priority to hay. But rabbits can't live eating hay all day long. We must add veggies and fruits to their daily diet. pineapples are a good source of food treat for rabbits.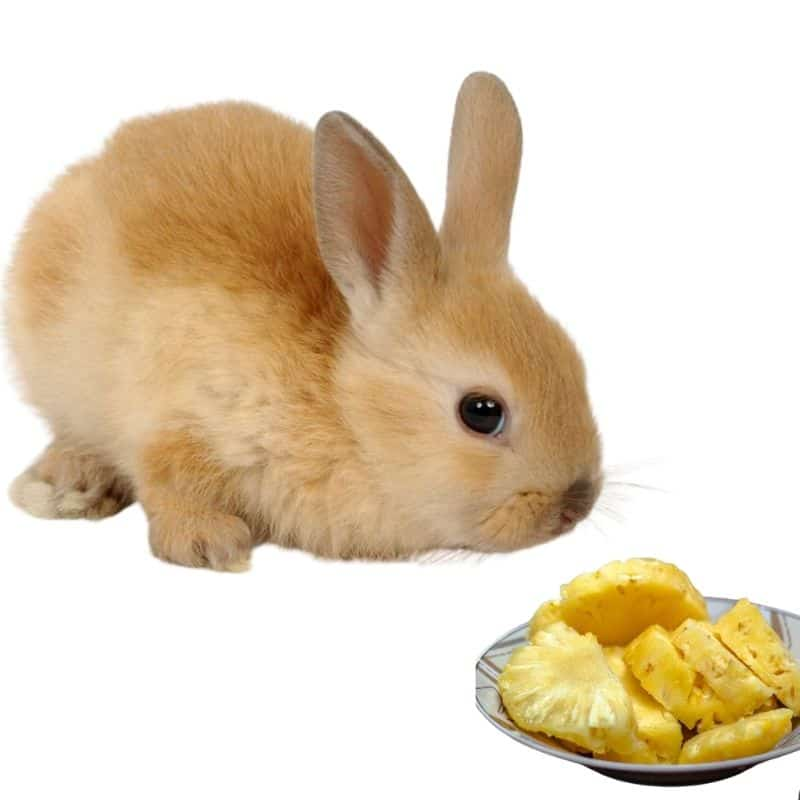 Is Pineapple Good For Rabbits
Pineapple is good for Rabbits. Pineapple is a good source of vitamin C for rabbits' health. And It's also a good source of vitamins A, K, minerals & fiber which are essential nutrients for rabbits. Pineapple contains bromelain that can help your rabbits to absorb nutrients easily and improve the digestive system.
It's safe to give fresh and raw Pineapple. Don't feed overripen Pineapple and those contain more sugar & can lead to digestive problems. Avoid feeding dried Pineapple or canned Pineapple for rabbits. These things contain more sugar amount than raw Pineapple. We must also keep in mind not to feed more sugary fruits on the same day. All ways keep the moderation.
Benefits Of Pineapple For Rabbits
Pineapples have good benefits if we feed them according to a proper guideline. These benefits are required for the growth and development of the body.
Water: Helps rabbits to stay hydrated and healthy.
Vitamin C: Pineapples are one of the fruits that are rich in vitamin C. Vitamin C acts as a good antioxidant that will help your rabbits to protect from cell damages, reduce heart health issues and joint pain.
Pineapples also help to reduce the risk of macular degeneration. Pineapples have a significant amount of bromelain. It will help to digestion and break down the proteins.
Potassium: Potassium helps for healthy growth and muscle maintenance. 
Vitamin B6: Vitamin B6 is an essential nutrient for rabbits. It helps to enhance the immune system of rabbits & helps to maintain a healthy nervous system. Vitamin B6 removes unwanted chemicals from your rabbit's liver and kidneys.
Manganese: It helps for the metabolism of carbohydrates and facts. Manganese and potassium can help to reduce heart disease. Manganese in Pineapples can help to develop strong rabbit bones and connective tissues.
Fiber: Fiber act the main role in the rabbit's health. It can help digestion and helps to prevent gastrointestinal issues.
Pineapples have inflammation properties and help to reduce coagulation of the blood.
How Often Can Rabbits Eat Pineapples
Pineapples are a good fruit for your rabbit only if we feed them according to a proper guide. A small portion of Pineapples can provide good health benefits for rabbits. We must always carefully check the amount of food treats fed to our loving rabbits.
Depending on the weight we can serve the best and healthy treats to rabbits using a proper usual diet plan. We can serve 1-2 tablespoons of pineapple per five pounds of your rabbit's body weight not more than 2 – 3 times per week. Try to feed rabbits with Pineapples in moderation. Don't try to feed those to baby rabbits. 
Risk Of Overfeeding Pineapples For Rabbits
We need to be careful before feeding high sugar content foods like Pineapples. Overfeeding them may lead to critical health issues in rabbits.
Pineapples contain with high amount of Bromelain. Overfeeding Pineapples can lead your rabbits to many problems. If you are feeding for the first time check whether your rabbits eat Pineapples without showing any health problems. There is a rare probability of allergy to Pineapples.
Pineapples have high sugar content; it can lead to an overgrowth of bacteria in the digestive system. This causes an upset stomach, loose stools, stomach pain & diarrhea. 
Too much sugar in a diet can also lead to obesity issues. This may lead to many varieties of health problems in rabbits.
Also, high sugar fruits like Pineapples can lead to many dental problems in rabbits. We must be aware of these cases too.
Rabbits can generate their own Vitamin C. If we provide Pineapples too often it can lead to cases of kidney damage. We must always provide Pineapples as an occasional treat for rabbits.
Which Parts Of Pineapples Are Safe For Rabbits
Pineapple leaves are bitter and contain long fibers. These long fibers can be stuck in rabbits' throats. Don't feed things that have any probability of health risks to rabbits. Try to feed only inside fresh parts for rabbits. We must avoid feeding spiny skins of pineapples and Pineapple leaves for rabbits.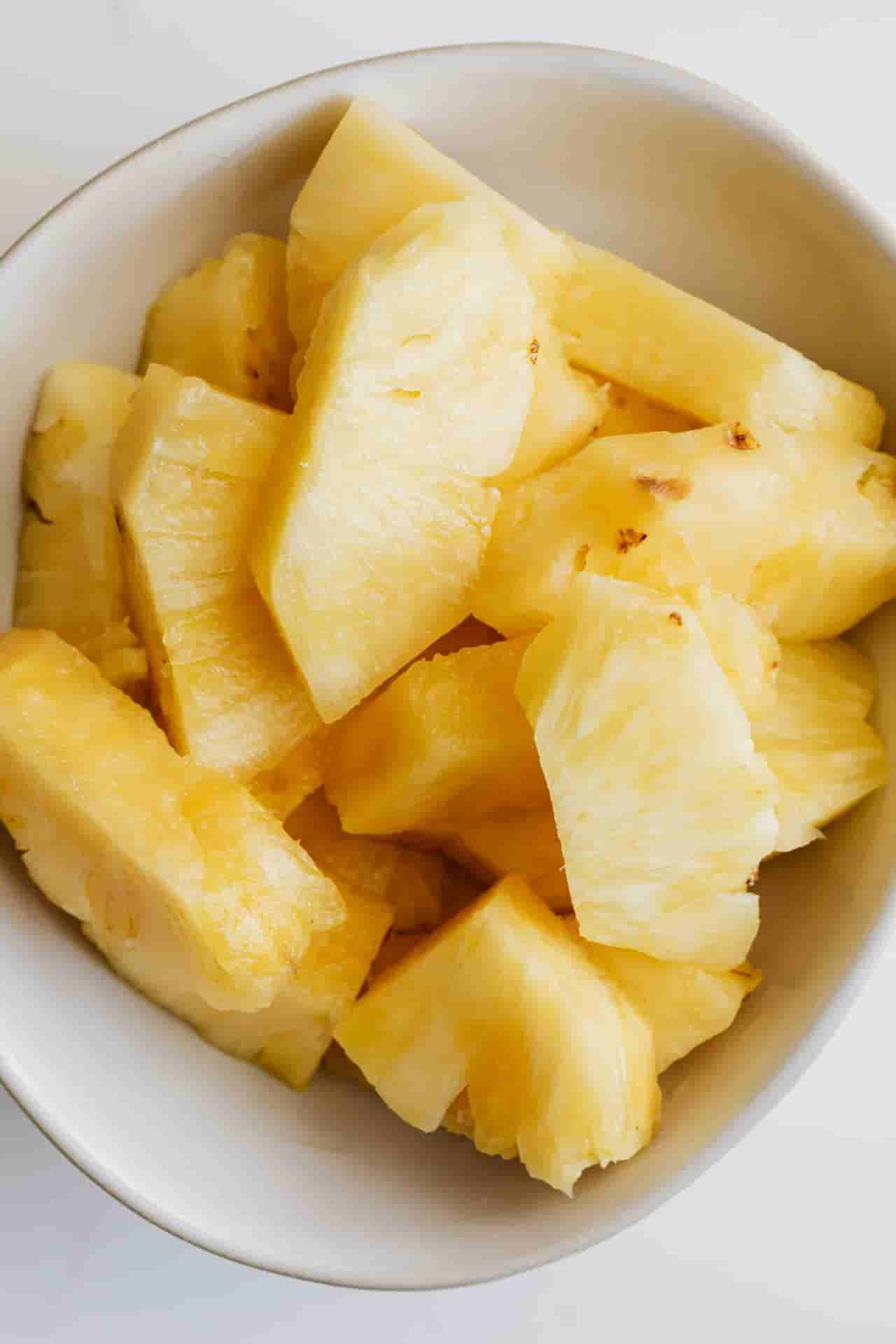 Pineapple Feeding Guide For Rabbits
As we know now, pineapples are good, natural food for rabbits. But there is a guide you must follow before feeding pineapples. Let us check it out. Before introducing new food to rabbits for the first time, you need to start up with small portions. Keep inspecting them carefully. If they show some illness, stop feeding Pineapple and only feed the rabbit's daily diet (Diarrhea, lethargy, constipation, and loss appraise are some of the illnesses). Don't try to introduce many kinds of food at the same time & try to give the same food until they are fully adapted to eat. Always provide fresh and clean Pineapple for rabbits.
Guide to Feed Pineapple to rabbits:
First, pick a good quality Pineapple for your rabbits and cut off the pineapple top (also called as Pineapple crown)
Slice off the outer Pineapple skin until the "eyes" are faded. You can dig out any sharp "eye" leaf behind
After that we can cut into small chunks, that is easy to be eaten by rabbits
Do not provide too many pineapples for your rabbit. Always limit the amount.
Can Rabbits Have Dried Pineapples, Canned Pineapples, or Pineapples Juice 
We can provide only a very small amount of dried or frozen pineapples for rabbits. But keep in mind not to serve those as they may contain added sugar or other unhealthy ingredients for rabbits. Canned Pineapple or pineapples juices are not safe for rabbits in any way. We must avoid feeding canned food items to rabbits. Try to always feed raw Pineapples for rabbits.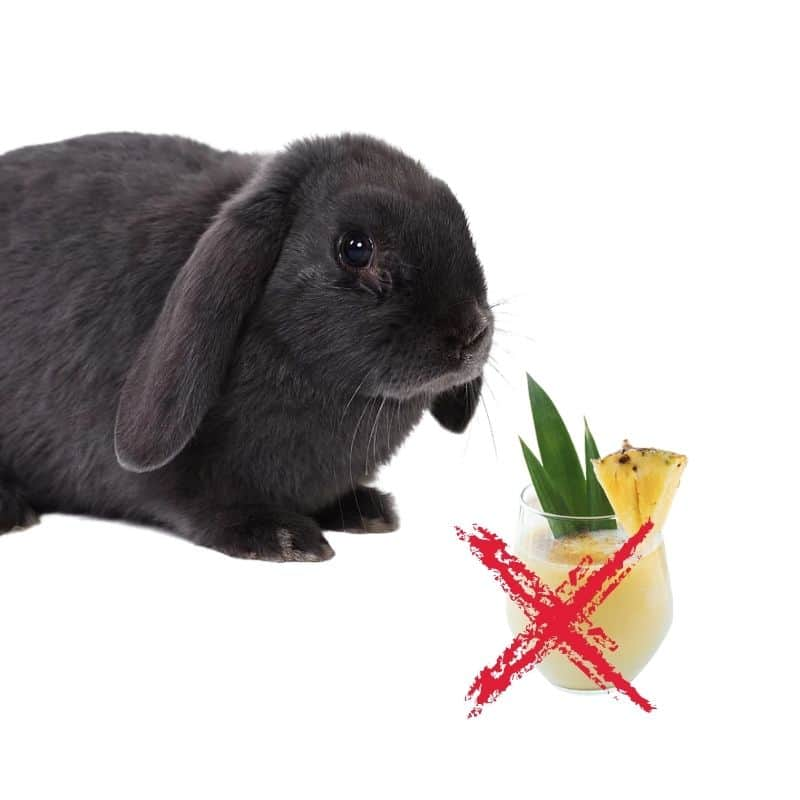 Alternatives For Pineapples?
Rabbit's diet should mainly be covered with quality hay and grass. In addition, we can provide a small portion of vegetables and fruits. We recommend giving two cups of fresh vegetables to adult rabbits daily.
Bell peppers
Bok choy
Brussels sprouts
Basil
Cilantro
Endive
Green leaf
Red leaf
Parsley
Cabbage
Fennel
Fresh fruits should be served one or two times per week as a treat.
Grapes
Banana
Berries
Melon
Peach
Pear
Plum
Watermelon
Papaya
Pineapple
Orange
What Rabbits Really Need In Their Diet
Your rabbit's diet should mainly contain fresh quality hay, grass, and clean water. Unlimited hay supply is extremely important for their health. This guide will give you an overall idea of the things that should be contained in the rabbit's diet.
Freshwater: They must have an unlimited supply of freshwater. Use water bowls, it's easy for rabbits to drink water & easy to clean. Make sure to change water daily.
Unlimited Quality Hay: Keep feeding fresh grass hays. We recommend giving good types of hays to your rabbit. Such as timothy, orchard grass, etc.
Pellets: For bunnies, you can provide timothy hay pellets in very small amounts. For adult rabbits, you need to provide one-quarter of a cup daily.
Vegetables: Feed them daily 1 -2 cups with fresh vegetables. Some good vegetables are bok choy, carrot, endive, brussels sprouts, basil, mint, green leaf, red leaf, etc.
Fresh Fruits: Give 1 -2 cups per week. Some good fruits are apple, banana, berries, cherries, grapes, papaya, plum, watermelon, etc.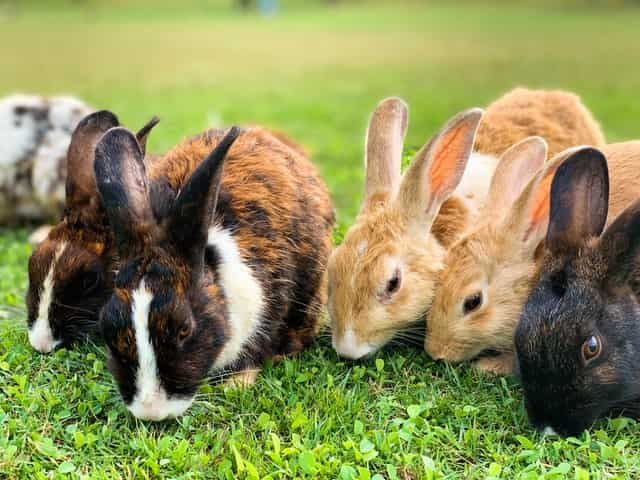 Summary
Pineapples are one of the good healthy treats for rabbits. But due to the high sugar amount, we can't provide Pineapple too often for rabbits. Always limits the Pineapple amount and only serve them as an occasional treat in moderation. Don't try to feed another sugary fruit at the same time when you feed Pineapples. It can lead to many health issues in your rabbit. We can serve 1-2 tablespoons of pineapple per five pounds of rabbit's body weight not more than 2 – 3 times per week. Don't try to feed those to baby rabbits. 
I think this article covers all the things you should know about Pineapples before feeding them to your Rabbits.
Thank You !!!